While there's a lot of joy in rewatching vintage sci-fi movies with their low-fi effects and impossible dreams of future technology, they don't quite excite me as much as new retrofuture movies do. I understand that may be confusing, how can a new movie be retrofuturist? Just like how many authors write steampunk stories or artists create posters that look like retro sci-fi art, movies can be made in a retrofuturistic style. These may be alt-history stories that take place in the past or visions of the future that align with the nostalgic predictions of yesteryear. There's something about these nostalgic films that I can't get enough of. This list captures some of my favorites. If I've missed one of yours, make sure to share it in the comments.
The Rocketeer (1991)
Watching The Rocketeer was my first foray into the world of retrofuturist movies. My dad bought a VHS copy of it in the discount bin at the video store and it became a favorite in my rotation. It's sad for me to admit that this movie is considered "vintage" now, but it still meets the definition for this list. Based on the (not as great) comic book series, the movie follows pilot Cliff Secord who stumbles upon a top-secret jetpack. Things get a little crazy from there as he unravels a secret Nazi plot to rule the world by stealing the jet pack.
Set in the glitzy Hollywood of 1938, the style is a mix of decopunk and dieselpunk, mirroring the style of the original comic, which was published in the 1980s. The creator Dave Stevens created the character as a homage to the Saturday matinee serial heroes from the 1930s-50s and you can feel that in the movie as well. The classic art deco style of the original comics was used in a lot of the early promotional images as well.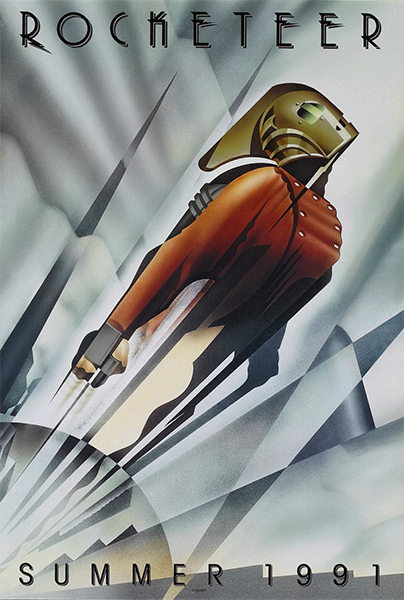 The movie didn't do so great at the box office thanks to viewers assuming it was a children's movie because of the Disney name (it's not) and the original movie poster (above) didn't advertise the cast as well as it could have. But the visual effects are very slick for the early 90s and it is so fantastic to see Cliff take off in that jetpack that we're still stuck waiting for.
Continue reading "7 Retrofuture Movies that Bring Vintage Scifi Dreams to Life"