We already know how obsessed I am with retro-style robots. From tin wind-up robot toys to vintage book covers, I can't get enough of those boxy visions of personified machines. But these sculptures take that familiar vintage concept and create amazing pieces of art. Check out this lady robot called Daphne. Made from an upcycled candy tin and a bundt pan, she is reminicent of the Jetson's Rosie the Robot.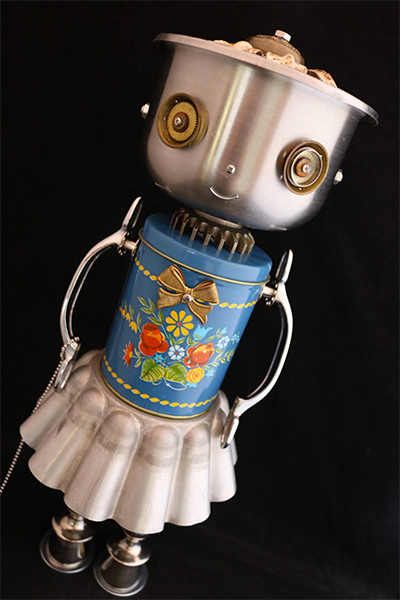 Cheri Kudja is an artist based in Florida who takes recycled found options and creates robot sculptures she calls Bitti Bots. Made from a variety of metal and tin objects, each robot is unique and made to look like traditional robots from vintage sci-fi or even animals and other creatures.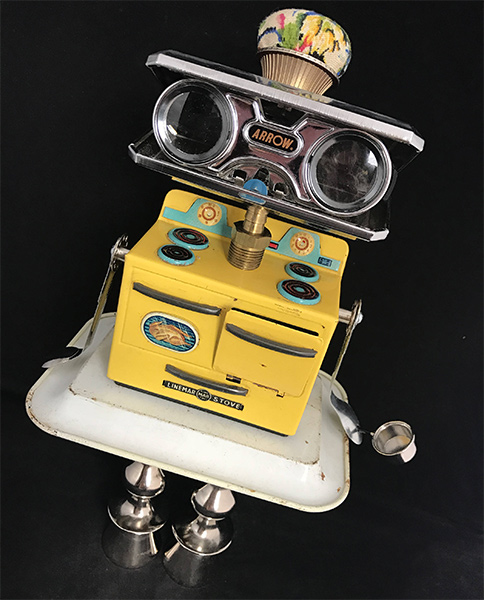 My favorite is the robot pictured above, called Betty Crockbot. This brightly colored robot reminds me of Wall-E or Johny 5 from Short Circuit. Betty's big robot eyes are made from a broken pair of opera glasses. Her body is made from a vintage Linemar tin toy kitchen stove that adds an extra 1950s flourish to the robot. The tin tea platter used to make her skirt is from the 1960s and her arms are made from vintage measuring spoons. This robot sculpture would look great in a kitchen.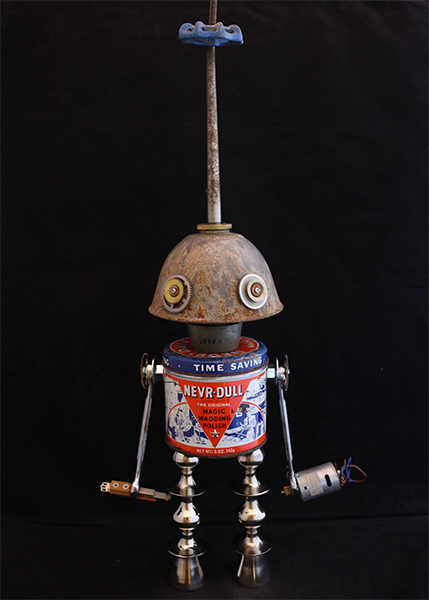 Dull Oil Bot is a masculine robot made from a vintage polish tin for the body and an Eagle pump oiler can for the head. This little robot looks at home in a garage or a "Man Cave."
Since each robot is unique, they make unique gifts for sci-fi fans and art collectors. The available robots are always changing and you can see the latest creations in Cheri's Etsy store.