I have fond memories as a kid digging through boxes of books passed down to me from my parents who grew up in the 1960s. My favorites were the comic books, sci-fi books, and the old science books. The science books were great, with fantastic illustrations of space travel and technology. (I especially liked to get my hands on books about the speculations on the future of technology.) As much as I enjoyed those old science books, a lot of the information was outdated in my youth and probably isn't something I'd want to give to any future children of my own. Recently I discovered some educational children books that present their science with the classic atomic age style of illustration I love from those vintage books.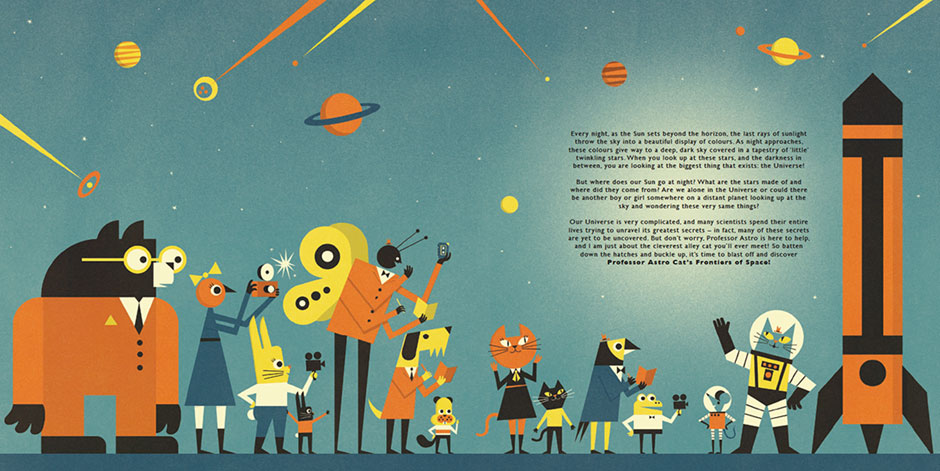 Professor Astro Cat is a character from a series of books by Dr. Dominic Walliman and illustrator Ben Newman. Credited as the "smartest cat in the alley," Astro Cat guides children from age 8 to 11 on fun and informative trips through subjects like physics or space travel and the universe. Dr. Walliman has a PhD in Quantum Device Physics and teaches physics to students in a variety of settings. He brings all of that knowledge to these educational childrens books.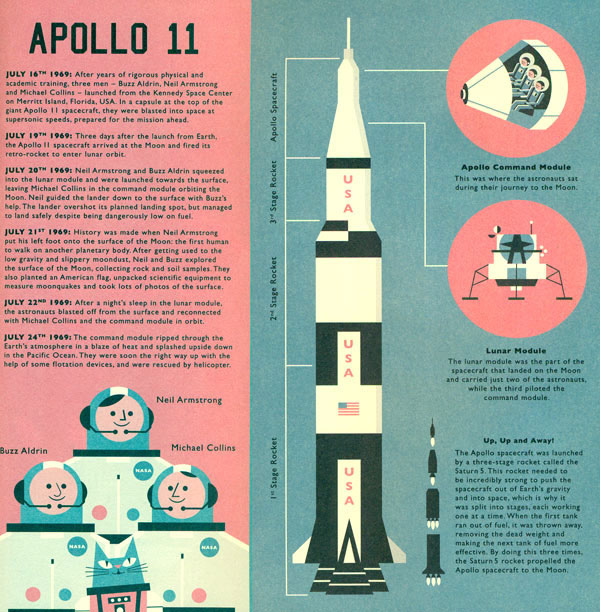 The real fun, of course, is in the illustrations. The classic illustration style is reminiscent of children's science books from the 1950's and 1960's. They help make the materials engaging and approachable for kids with varying levels of interest in science. Tiny science nerds in the making will absolutely gobble these books up! Plus the retrofuturist style makes them fun for parents and grandparents who enjoy the nostalgic kick. If your looking for retrofuture children's books for a kid in your life, Professor Astro Cat is perfect.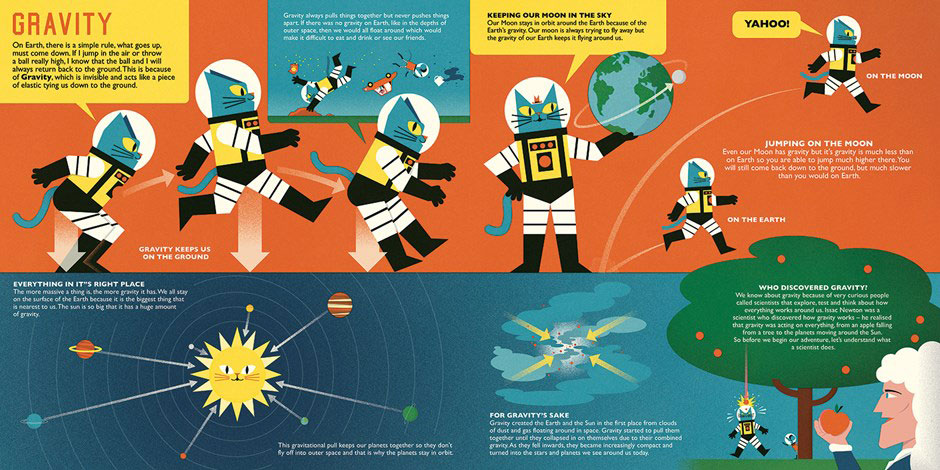 Currently. there are two books (Professor Astro Cat's Atomic Adventure and Professor Astro Cat's Frontiers of Space) and an activity book available, with a third due this fall: Professor Astro Cat's Solar System. All of the Professor Astro Cat books are available on Amazon and in local bookstores. There is also an educational iOS app for iPad and iPhone called Professor Astro Cat's Solar System that features the same vintage illustration style. Learn more about Ben Newman's illustrations on his website.