Now that we're getting into the last half of August, many people in the US are getting sick of the super hot and humid summer weather. It's also the time of year when many minds drift ahead, thinking of changing leaves, pumpkin spice flavored treats, and (if you're a parent or a student) heading back to school.
Even though I have no one in my life that will be heading to school this fall, I can't help but love some of the retro-robot themed school supplies I've seen pop-up in various corners of the internet. These are the kinds of items I would have LOVED to buy during my school supply shopping trips. I would definitely be the one with the matching backpack, lunch sack, and pencil case, even if they're all advertised for boys.
Check out these fun and fabulously retro robot designed supplies. If you have any reason to buy some of these, do it ASAP!

Back to school shopping always starts with a backpack. Any robot obsessed kid would love this retro robot bag. It has all the pockets and features any student would need and also LOOK AT THOSE ROBOTS. The print features cute illustrations of a variety of retro-style robot friends. Check it out at Amazon.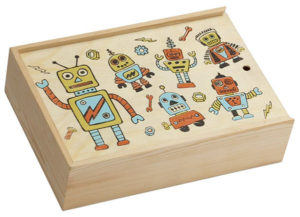 This is so cute and functional I am tempted to buy one for myself. This pine wood pencil box bright and colorful illustrations of retro-style robots. Great for storing pencils, pens, markers, and other school supplies. Check it out at Amazon.
Is a pencil case more your style? Check out this awesome black and white print retro robot case on Etsy.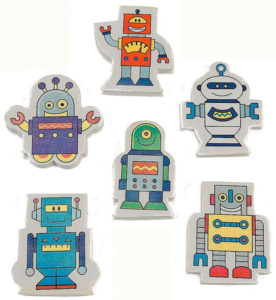 In addition to pens and pencils in your pencil box, don't forget erasers! These erasers feature cute little illustrated retro robots in a variety of friendly styles. Check it out on Amazon.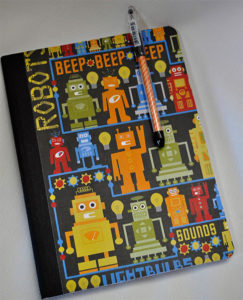 Why have a boring and plain Composition Notebook when you can have this awesome notebook covered with retro robots? Perfect for taking notes or even inspiring some scifi stories. Check it out on Etsy.


Did you know lunch can feel a little more retro too? You can get all the retro robot supplies you need for an awesome lunch. This red lunch box with a boxy robot on the lid will keep your food cool (check it out on Amazon). The child-sized silverwear with cute robots on the handles will fit perfectly inside (check it out on Amazon). Use the retro robot tupperware to keep snacks and sides contained (check it out on Amazon). And don't forget to include a drink in this CamelBak Kid Water Bottle with fun robot and scifi themed illustrations on the side (check it out on amazon).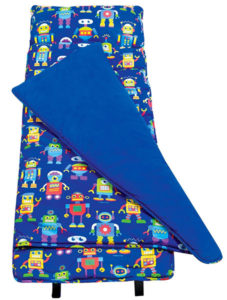 After lunch, nap time can inspire robot themed dreams. Adorable and rollable, this nap map has fun illustrations of retro style robots on its fabric. Check it out on Amazon.