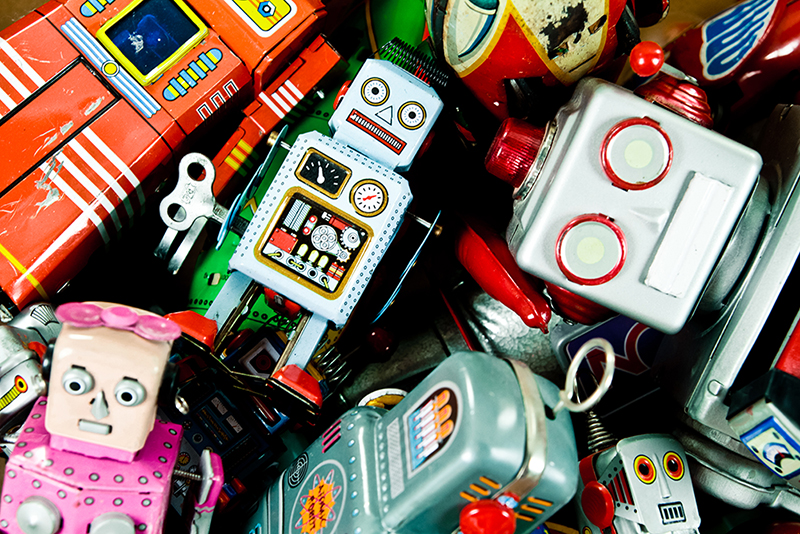 The holiday shopping season is upon us and all the ads and websites pushing toys and gadgets for this year make me feel like we're living in a technological dystopia. From the kid's Think and Learn Smart Cycle that just looks like training for Black Mirror's "Fifteen Million Merits" to the FrontRow Wearable Lifestyle Camera that brings the surveillance state to your own body, I am missing simpler times. And of course, the simpler time I'm missing is from before I was born.
Tin toys first came into existence in the mid 19th century as a substitute for wooden toys. They were cheap to make from durable tinplate, manufactured in Germany originally and then in the US in the early 1900s. Once World War II started, the materials needed to produce the toys were diverted for the war effort and Japan became the main manufacturer of tin toys through the 1950s. After that, plastic toys became all the rage because they were cheaper to manufacture and easily met new government safety regulations. (Read all about their history on Wikipedia.)
Many parents and grandparents remember their tin toys fondly, especially the space and robot-themed toys that remain popular among vintage collectors today. Luckily, there are many retro-style tin toys still being manufactured today that are affordable for regular consumers looking for a little nostalgia. Good for kids, collectors, or a meaningful gift for Dad or Grandad, let's take a walk down memory lane and enjoy these retro sci-fi themed tin toys.
Robby the Robot Inspired Tin Toy
One of the most famous robots from the 1950s and 60s, this tin toy is based on Robby the Robot from Forbidden Planet. While it's also available in red, the black version looks the most like the classic robot. This is a wind-up toy, but it's meant for collectors to display rather than for children to play with.
Continue reading "20 Retro Scifi Tin Toys to Take You Back to Simpler Days"