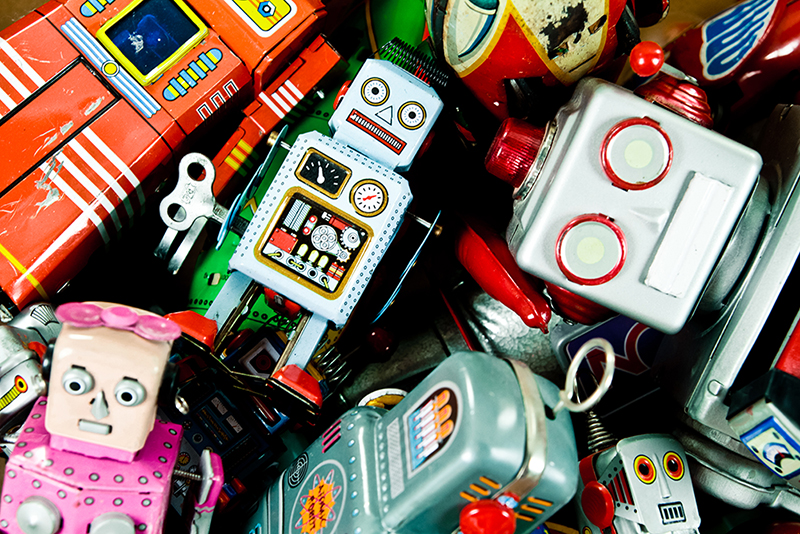 The holiday shopping season is upon us and all the ads and websites pushing toys and gadgets for this year make me feel like we're living in a technological dystopia. From the kid's Think and Learn Smart Cycle that just looks like training for Black Mirror's "Fifteen Million Merits" to the FrontRow Wearable Lifestyle Camera that brings the surveillance state to your own body, I am missing simpler times. And of course, the simpler time I'm missing is from before I was born.
Tin toys first came into existence in the mid 19th century as a substitute for wooden toys. They were cheap to make from durable tinplate, manufactured in Germany originally and then in the US in the early 1900s. Once World War II started, the materials needed to produce the toys were diverted for the war effort and Japan became the main manufacturer of tin toys through the 1950s. After that, plastic toys became all the rage because they were cheaper to manufacture and easily met new government safety regulations. (Read all about their history on Wikipedia.)
Many parents and grandparents remember their tin toys fondly, especially the space and robot-themed toys that remain popular among vintage collectors today. Luckily, there are many retro-style tin toys still being manufactured today that are affordable for regular consumers looking for a little nostalgia. Good for kids, collectors, or a meaningful gift for Dad or Grandad, let's take a walk down memory lane and enjoy these retro sci-fi themed tin toys.
Robby the Robot Inspired Tin Toy
One of the most famous robots from the 1950s and 60s, this tin toy is based on Robby the Robot from Forbidden Planet. While it's also available in red, the black version looks the most like the classic robot. This is a wind-up toy, but it's meant for collectors to display rather than for children to play with.

Wind-up Drummer Robot
I like the design on this retro robot toy. This tin toy is a walking drummer–wind him up and he hits his space decorate drum. With a bronze body and a satelite dish on his head, the is a handmade collectible meant for adults.
Schylling Rocket Racer
Blast off to space! The rocket racer is another spaceship toy that runs on wheels for floor play. This one features a pull back motor, so if you pull it backwards on the floor it will propel forward while making a clacking motor noise. The design and actions have a fantastic vintage feel great for collectors.
Cragstan Mr. Atomic Robot
Based on the toy originally sold by Sears in 1962, Cragstan's Mr. Atomic Robot does not come in the classic vintage style. Instead of having moving legs, he walks with "mystery action" (he has tiny wheels underneath) while his toes wiggle up in down. This is a nice collector piece for adults looking for some variety in their collection.
Space Comander Vintage Tin Toy
This is another fun collector's toy. The Space Commander's ship looks like a rocket but features tank-like wheels to roll it along the ground. When you roll it, the red nose cone sparks. This is a fun piece, great for display.
Martian Tin Toy
I love this tin toy because it reminds me of the invaders from HG Well's War of the Worlds. Featuring very long legs, you can wind up this martian invader and it walks. Perfect for fans of classic sci-fi movies and TV.
Tin Toy Z-bot Wind-up Robots
The set of tin toys is actually made to be played with by children (age 3 and up). Though they don't have any fancy walking legs, you can wind them up and they move. Lots of fun for kids who enjoy robots.
Lilliput Vintage Tin Robot
Claimed by historians as the first true toy robot, the original Lilliput was released in Japan in 1932 as a yellow wind-up walking robot. Luckily for collectors, a variety of replicas are available in a variety of colors for home display. Made from tin, this vintage robot includes a key for winding up his mechanical parts, which allows him to walk.
Classic Retro Wind-Up Robot
I love this little robot that's based on a vintage Japanese tin toy. In fact, I have one that I picked up at a local robot shop. He comes with a wind-up key and he walks and moves his arms. This is a nice entry-level tin robot.
Atomic Space Blaster
Rayguns are one of my favorite things from retro sci-fi. And this tin toy from Regal Gamesis a fantastic manifestation of them. When you squeeze the trigger, LED lights flash as if you're really shooting rays. Made for kids five and up (which means it's perfect for adults, too!).
Roberta Robot Toy
Most robot toys are pretty masculine, but Roberta is all woman. Featuring tons of pink and feminine details, Roberta is also a wind-up, walking robot toy.
Space Captain Tin Toy
I've always been fascinated by this style of tin toy because it reminds me of a very steampunky space man. Described as a robot toy, this is really and astronaut in a very vintage style space suit that looks like old scuba diving suits. This is a reproduction based on a Japanese toy from the 1950s, intended for collectors and children over 8.
Retro Rocket Tin Toy
This is a fun tin spaceship based off early rockets and the classic rocket design from vintage science fiction. This rocket also has some fun action components built-in. It includes wheels to roll it across the floor. When the rod on the nose of the rocket hits an obstruction, the rocket will pop upright–like it has just landed–and a ramp will come down.
Space Robot Tin Toy
This is another classic wind-up robot toy. His antenna is an on/off switch that controls his walking motion. His eyes and mouth also spark like a threatening robot from space. Great for collectors over 14 years old.
Flying Saucer Wind-up Tin Toy
Another cute vintage designed tin toy, this one is in the shape of a traditional UFO or flying saucer. Inside there's a person in a spacesuit. This is a reproduction of a 1950s Japanese toy, but it works. When you wind it up with the key, it will buzz around your floors, sparking inside the cockpit. If it hits a wall or a piece of furniture, it will bump off and go in a different direction.
Side Stepping Mechanical Robot
This vintage robot toy is a bit different from other models. This toy is a wind-up tin figure that does not have moving legs, but the two feet on each side make a walking motion that moves the figure.
Future Car Tin Toy
This is the most retrofuturist toy on our list. Called the "Future Car" it's based on a retro atomic age imagining of what cars could look like in the future. It has a slick retro design, along with a bubble window and what looks like rocket boosters on the back. Love this.
Sparking Mike Robot Toy
Based on a 1956 toy from Japan, Sparking Mike is a die-cast tin robot that walks and sparks. His boxy figure features a wind-up key on the side that controls his movements. Nice display piece and recreation of a vintage toy.
Schylling Rocket Ride Tin Collectible
If you have nostalgic memories of old county fair and amusement park rides, this tin toy is the perfect tribute. Schylling designed this toy to look like an 8″ tall Rocket Ride. Pull the lever and the toy spins, with the rockets soaring through the air. For collectors 14 years old and up.
Mechanical Walking Spaceman Robot
This tin robot features classic walking action supplied by the vintage style wind up mechanism. His legs move and arms wave like a spaceman invading Earth. Designed like vintage robot toys from yesteryear, this is a great item for collectors.