I found this gem of a retrofuturistic movie clip today from the 1958 German film Bühne frei für Marika (translated to Stage Free for Marika). The musical comedy stars German triple-threat Marika Rökk as a former dancer who has recently divorced her husband and is trying to re-start her career. The only plot summary I could find was in German, and even with Google Translate it was a little tricky to figure out how this video comes into play, though it seems she's starring in a sci-fi themed musical.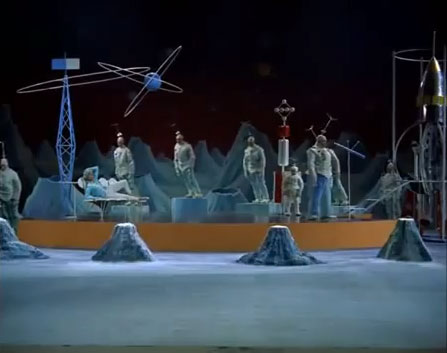 The clip is of a song called Mir ist so Langweilig (translated to: I'm so Bored). In it Marika is an alien girl living on a planet entirely populated by portly men with antenas on their heads. And they are boring. As she laments her uneventful existence, she notices through her telescope the awesome fun dance party people are having on Earth and takes off in a rocket to join in the fun.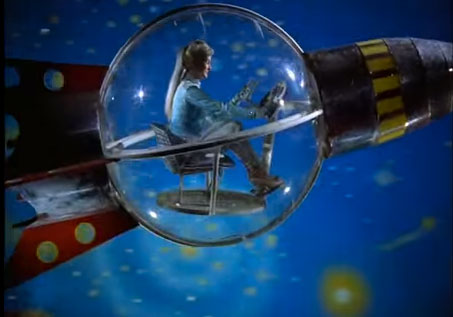 The premise is a little silly, but the sets and design are absolutely amazing, a perfect encapsulation of the atompunk style. I especially love the gyro-scope style rocketship that allows Marika to stay fully upright during take-off, flight, and landing.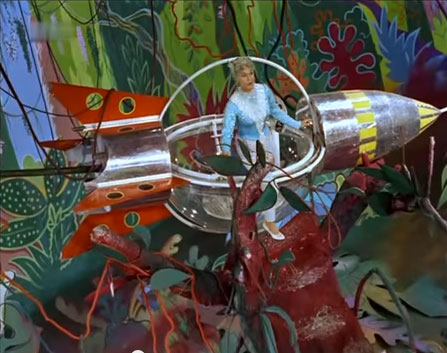 The jungle-dance scene with the snake and other geographically incorrect "jungle animals" is less interesting, but it's worth watching (or skipping) to the end when her father shows up in his own rocket to spoil her fun. If you don't mind a song performed entirely in German, the video is a campy, amusing clip with a beautiful retro-futurist style and vision of the alien planet.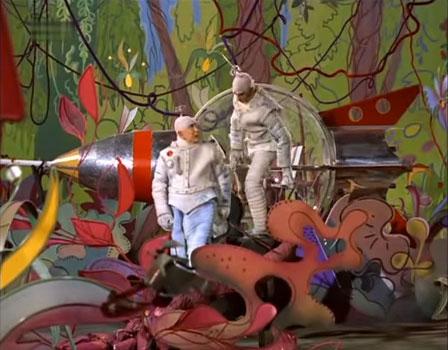 Watch the entire number: