I was so excited when I found out this weekend that the classic science fiction book The Runaway Robot
by Lester Del Ray is back in print. This is one of the first scifi novels I read as a kid, and may explain my general obsession with robots, especially the idea of a sentient robotic companion. This book has been out of print for years and I'm thrilled to see it's available again for young scifi fans to enjoy.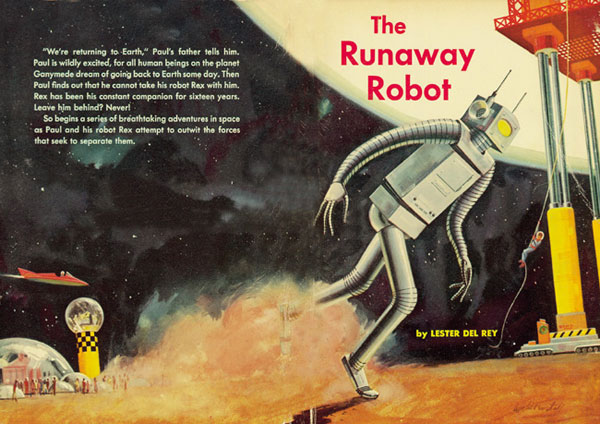 Original cover from 1965 by Wayne Blickenstaff. Source.
The story is about a boy named Paul who has been raised with a robotic companion called Rex. Rex's main role is to be a protector for Paul on the moon of Ganymede, but they become inseparable friends. When Paul and his family are called back to Earth they have to leave Rex behind. The robot's bond with Paul is so strong that Rex decides to stowaway on the ship, and that's when the adventure begins.
I actually have an original copy from 1968 that was a hand-me-down from my father (same cover as above). This story influenced me so much as a young reader that I took the book with me when I moved away to college, and it's still displayed proudly on my bookshelf. I prefer the original cover art by Wayne Blickenstaff to the new edition. Many of the chapters also have some lovely vintage black and white art.
If you can find a copy of the original printing
, I highly recommend it for the beautiful vintage art.
A fun factoid: the novel was actually written by Paul W. Fairman, based on an outline by del Rey.