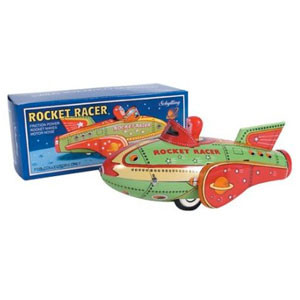 Avg. Review:

Features:
Vintage Tin Rocket Racer Toy
7.5" Toy with Pull Back Motor
Collectors Toy for Ages 14+
This classic tin toy from Schilling is the Rocket Racer. It features an astronaut in a 7.5″ green rocket. Includes vintage packaging. The rocket has a pull back motor to speed across the floor like a rocket flying through space. The friction powered wheels make a clacking motor noise while in motion. Perfect for collectors or as a gift for vintage science fiction and retro toy fans.
Fine Print: