A little background on what the Retrofuturist reviews will be: I don't consider myself a critic, so these reviews will more focus on how the book, movie, TV show, etc. embody retrofuture elements or execute the retrofuturist genre and what I generally think about the piece. So here we go:
I had never seen Disney and Pixar's 2004 film The Incredibles
before last week. This is insane because 1) I love Brad Bird's The Iron Giant
and 2) I love Pixar. However, I'm not very interested in superhero or comic book movies in general, so the plot never really grabbed me. But after seeing some of the architecture and interior design of the film online, I decided I wanted to check it out.
Note: There may be some spoilers to follow, so if you're like me and it takes you over a decade to watch a movie, be warned.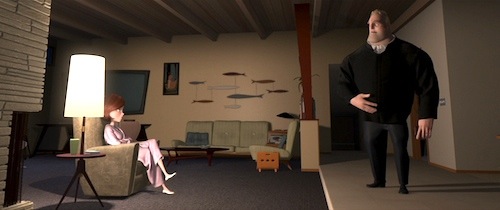 Bob and Helen's retro-furnished living room.
The Incredibles is about Bob and Helen Parr and their children Violet, Dash, and Jack-Jack, who are "Supers" (humans with superpowers) trying to live bland suburban lives and hide their superpowers from a world that disapproves of them. Bob (the former Mr. Incredible) is completely dissatisfied with his new life, until he receives a message asking him to take on a secret mission to destroy a malfunctioning robot. Eventually he discovers this is all the evil plot of the super-villain Syndrome.
Continue reading "The Incredibles – Retrofuturist Review"